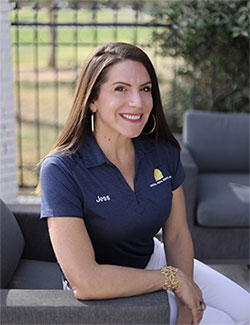 Jess Vestal
Broker/Owner

Phone: 432-254-7080
jess@jessvestal.com
Jess has been a force to be reckoned with since starting her career in 2014! She has worked with some fantastic Brokers in The Permian Basin to help her reach her goal of owning her own Brokerage. She started her Real Estate career with Victoria Printz where she was the Marketing Director, Licensed Assistant and Photographer for other agents.

In late 2015 Jess made the leap to Pine & Beckett where she worked for Norma Pine as one of her top agents until obtaining her Broker's License in 2019 where she was then the Top Broker under Norma Pine in 2020 and 2021.

Jess reached her dream of owning her own Brokerage in August of 2022. She believes in hard work and strong ethics, training only the best agents and serving the Permian Basin the way her clients deserved to be served.

Prior to Real Estate Jess ran a very successful Restoration Franchise where she specialized in Water, Fire, Bio Hazard, Hoarding and Hurricane Clean up; she also has experience in Insurance Adjusting making her well versed on most aspects of a home.

Jess Values putting her clients first, honesty with her buyers and sellers and above all, getting her clients to the closing table.

"Sellers hire us to SELL their homes, not for them to sit on the market; they CHOOSE US and I take that very seriously. I am very honest with my clients, I think that is what differentiates me from other Brokers/Agents, I may not tell you what you want to hear but I will tell you what you need to hear in order to get your home sold. "


Want the Best? Go with Jess!