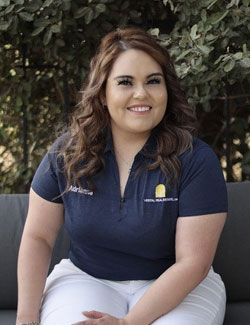 Adriana Reyes-Olivas
REALTOR® Associate

Phone: 432-978-9316
adriana@jessvestal.com

If you are looking to buy or sell a home, Adriana is your choice. She is also one of our top agents who serves our Spanish Speaking clients.

Adriana and her husband bought their first home at the age of 22. She has worked at a local Credit Union for 7 years and over time has learned many things of which she will always be grateful for but had no idea what the process was like to purchase a home. Her Real Estate Agent then helped she and her husband through the entire process, from the day they were approved for their mortgage, until they day they received the keys to their new home; now it's Adriana's duty and honor to assist in the process of buying or selling your new home.

Adriana was born in Midland, raised in Mexico until 3rd grade, her first language is Spanish.

At My community Credit Union she started as a teller and moved up to different departments. Adriana became Lead Teller and was Teller of the Year for 2016, she then moved to the Funding department (we also got department of the year 2017,) then moved to Financial Service representative where she did personal loans, credit cards, vehicle loans, open accounts and many more. She is currently in indirect lending (auto loans only)

She is married with an 8 year old daughter, per passion, besides Real Estate, includes breeding poodles and loving on dogs!